Travel Mug Stainless Steel Silver 14oz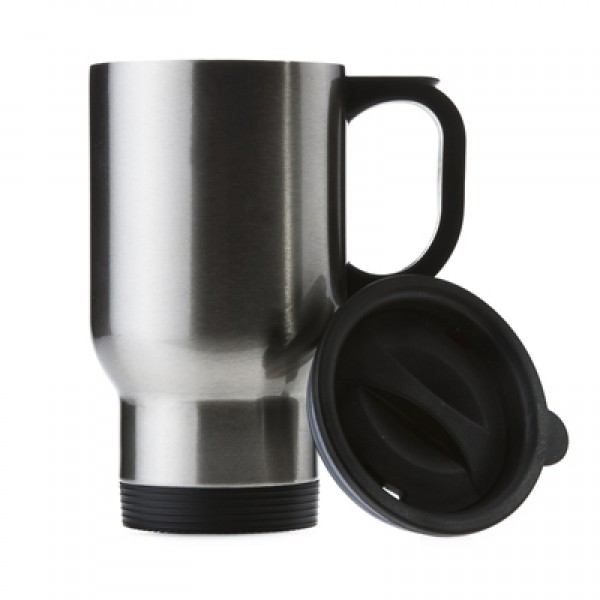 This finely crafted stainless steel silver travel mug fits perfectly into your adjustable cup holder and can be used for both hot or cold beverages.
Great for coffee or tea on the go. It includes a plastic rubber-lined resealable lid and double-walled interior.
Full color imprint on one side, two sides, or image wrap around!
Just add your photos or images and optional text.
Add multiple images or text. Add a picture collage. Your mug, your way!
Production time within 2 - 3 days of design approval.
Most US orders received within 7 - 12 days.
Features:
Durable Stainless steel exterior
Stainless steel Double-Walled interior
Dimensions: 6" tall by 3.5" wide ( 5" including handle)
Design Area: 8.5" across x 3.5" high
Resilient plastic rubber-lined re-closeable lid
Dishwasher safe.
Images and/or text will not fade.
Safe for hot and cold beverages
~✻~ COLOR MATCH DISCLAIMER (Please Read)~✻~
Colors vary from one display to the next - like they do on the televisions at any electronics store. The actual colors in your printed item will vary from your display depending on the image quality, image type, photographic settings, lighting, ink, paper, material, and printer used to create them. Colors on your display don't always print exactly the same as on a an item. We make the best effort to reproduce the colors in your images, but due to all the variations involved in printing, we CANNOT guarantee an exact match. If you are not satisfied with the resulting colors, feel free to return your item(s) for a full refund.